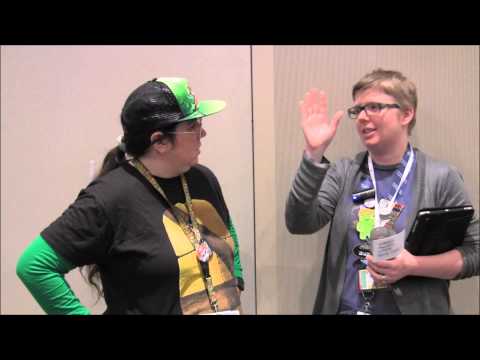 In the past few years My Little Pony has been making a big come back with their new series, "Friendship is Magic" as people of all ages are getting excited about the new series, toys, dolls and more.  IDW Publishing has recently picked up the rights for the new My Little Pony comic book and brought on Katie Cook as the writer for this new series.  We caught up with Katie at New York City Comic Con, just after the IDW panel to talk about her My Little Pony fandom and the directions she's going with this new series.
Now personally, I do like My Little Pony.  I own a few things and have watched most of the new series.  I even have a lot of my toys from my childhood still.  Though I am not a full blown Brony, some of my best friends are.  As they have supported me with my fandom all this time, I am happy to do the same for them and will do other reviews and such here on Cowabunga Corner for "Friendship is Magic".
I hope everyone enjoys this interview, and would like to Thank Katie for taking the time to talk with us!
Credits:
Guest: Katie Cook
Host: Michele Ivey
Camera: Miki Ivey
Editing: Michele Ivey
Intro: Phoenix
Music: "Pink Day" by Voranski
Sponsor:
Weird Review: weirdreview.com
Remember to check out our website: http://www.cowabungacorner.com/
Follow us on Twitter at: http://twitter.com/cowabungacorner
Myspace Mascot: http://www.myspace.com/tmntcon
Facebook: http://www.facebook.com/pages/Cowabunga-Corner/182112125136590 (If the facebook link doesn't work for you – just search Cowabunga Corner while on facebook, it will be the top result)
Our Facebook fan page is very active with comments and photos posted throughout the week that is not shared elsewhere. Check it out for up to date information on Cowabunga Corner.
Please Comment & Rate!