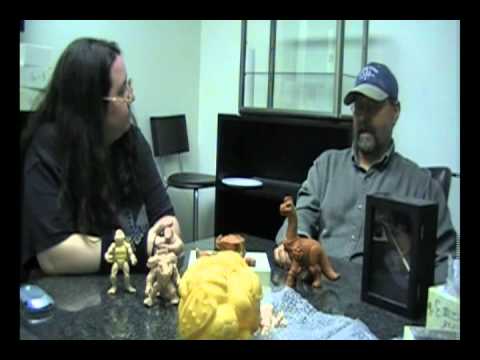 Hey everyone,
Welcome to episode 11 of Cowabunga Corner Season 4.  This episode was originally premiered at the Michigan Action Figure Expo in Battle Creek on May 7th, 2012.   In this episode we share an interview with Steve Varner, the owner of Varner Studios and the first man to bring us action figures of Teenage Mutant Ninja Turtles.   Varner Studios was hired by Playmate Toys to sculpt the Teenage Mutant Ninja Turtle Figures.  The first toy was of Donatello.
In this interview we share a lot of photos of original sculpts from the Teenage Mutant Ninja Turtles toy line.  As Steve shares how he got involved with TMNT history.
Next time on Cowabunga Corner: Christmas 1990
Credits:
Guest: Steve Varner
Editing: Phoenix
Host: Michele Ivey
Camera: Miki Ivey
Sponsor:
Weird Review: weirdreview.com
Remember to check out our website: http://www.cowabungacorner.com/
Follow us on Twitter at: http://twitter.com/cowabungacorner
Myspace Mascot: http://www.myspace.com/tmntcon
Facebook: http://www.facebook.com/pages/Cowabunga-Corner/182112125136590 (If the facebook link doesn't work for you – just search Cowabunga Corner while on facebook, it will be the top result)
Our Facebook fan page is very active with comments and photos posted throughout the week that is not shared elsewhere. Check it out for up to date information on Cowabunga Corner.
Please Comment & Rate!